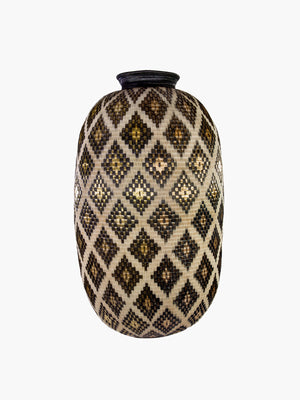 Region
Colombia
united states
Cause
Artisan craft,
Emerging economies,
Women's empowerment,
Story
Details
Size & Fit
Shipping & Returns
Our Casa Chiqui Werregue Container in Pineapple features a geometric design in a handwoven silhouette crafted by artisans in the indigenous Wounaan community in Colombia. The werregue containers represent the ancestral culture of the Wounaan and in each piece is captured the identity of the artisan who makes it, spending up to three months on each piece. The indigenous people weave the werregue fiber, which is a palm with a thorny trunk that can reach up to 200 meters high. Baskets like these were one of the first creations of the Waunaán culture used for transporting water and food. A truly exclusive piece that nowadays is a decorative dream piece that gives a touch of perfection to any space.

Celebrating Heritage
After years of traveling the world collecting unique treasures, Colombian socialite Chiqui de Echavarria opened the doors to her renowned store in the historic center of Cartagena, Colombia. Constantly evolving, Casa Chiqui has introduced a unique line of jewelry and accessories designed by Chiqui and produced by 94 local artisans from indigenous and rural communities from all over Colombia. Mostly women heads of household, they help bring Chiqui's designs to life using centuries-old techniques and natural, locally sourced fibers like iraca and cumare palm leaves.
READ MORE