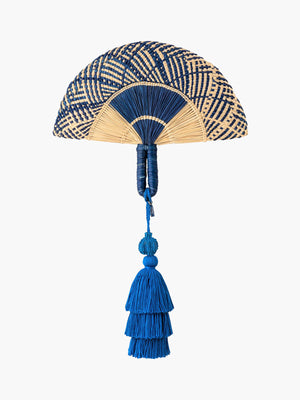 Region
Colombia
united states
Cause
Artisan craft,
Emerging economies,
Sustainable materials,
Women's empowerment,
Zero waste,
Story
Details
Size & Fit
Shipping & Returns
Our Maison Alma Alas Fan in Crisscross Blue boasts elegance and sophistication in a traditional silhouette with an oversized pompom that dangles from the bottom. Handwoven by artisans in Colombia using ancient weaving techniques and centuries-old traditions.
Revealing The Soul of Colombia
Colombian-born designer and Maison Alma founder, Daniela Bahamon designs pieces that are vibrant, sophisticated and created to endure the test of time. Every creation is a one of a kind statement piece that represents the emancipation of Latin American Luxury. Maison works exclusively with local weavers and artisans to preserve the ancient traditions of Bahamon's country and is proud to have a zero waste manufacturing process.
READ MORE