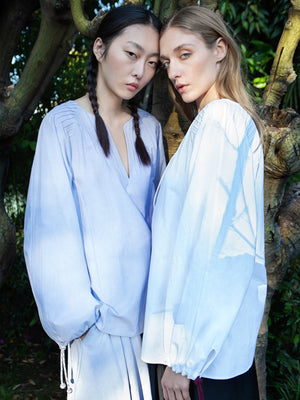 Region
Mexico
united states
Cause
Artisan craft,
Emerging economies,
Philanthropic,
Women's empowerment,
Story
Details
Size & Fit
Shipping & Returns
Our Collectiva Concepcion Yolanda Top is made from Manta, one of Mexico's most iconic fabrics. Featuring a pullover silhouette with long sleeves, Charro-braided drawstrings that cinch the cuffs, and a V-neckline.
Handcrafted by artisans in Mexico.
Please note all of our fabrics are handmade with artisanal techniques so they may have color variation or hyperpigmentation. This gives uniqueness and personality to every piece.
Preserving Traditions
Collectiva employs 230 artisans in the Mexican states of Chiapas, State of Mexico, and Michoacán. These artisans, mostly women, earn above 170% the minimum wage and are given the flexibility to work from home as they care for their families.
DISCOVER THE STORY